Dec. 22, 2016
Publisher: Shiseido
Product / Brand
Shiseido Renews the Products of AUPRES Brand Designed Exclusively for the Chinese Market
~ Activating "Golden Circulation" and Boosting the Beauty That Starts With Healthy Skin ~
Shiseido Group will renew the products of AUPRES, the China-exclusive brand sold mainly through department stores, and start sales of the renewed items from March 2017. This will be the second renewal for the brand since its launch in 1994. This time, to realize the "natural beauty" with the brand concept of "Natural Beauty, Starts from Here", the brand has developed new items through its unique theory: "Golden Circulation Theory". Meanwhile, the AUPRES stores were equipped with new sales-counters and new beauty devices in this March, and since then the brand has welcomed many consumers to experience the "beauty of healthy skin" with quick skin check at the stores. Going forward, the brand commits to anticipate consumers' needs through its new sales counters, counselling services and new products.

The AUPRES brand is exclusively developed and sold for the Chinese market by Shiseido Liyuan Cosmetics Co., Ltd., the Chinese subsidiary of Shiseido Company, Limited. Meaning "nearby" or "next to you" in French, AUPRES has remained close to Chinese women living beautiful and active lives for over 20 years. As of October 2016, the AUPRES products are available at 1123 department stores and eight boutique stores in China as well as via five e-commerce sites.
AUPRES' "Golden Circulation Theory"
Skin will remain in a good condition overall if it keeps its healthy, proper turnover. AUPRES has named this skin circulation the "golden circulation". If the skin circulation deteriorates, various skin troubles may occur. To prevent such cases, AUPRES eliminates the causes of deterioration in skin circulation and protects it to maintain stable skin circulation and approach the "golden circulation".
Overall Product Renewal in March 2017
Through this renewal, the brand will line up products by function, namely "nurturing skin", "restoring skin", and "beautifying skin". In March 2017, a total of 27 "nurturing" products in 45 types will be renewed at the price range of 20-600 yuan.

<Nurturing skin>
Skin care products include cleanser, essence, lotion and emulsion, etc. that revitalize the skin circulation. The items are developed according to skin types and conditions of T-zone and U-zone.

<Restoring skin>
Skin care products which support the skin circulation and protect it from damages, offered in two types: Care-type and Guard-type.
The items are available depending on skin concerns and needs.

<Beautifying skin>
The products include foundation and point makeup items. The renewal of these items is scheduled in November 2017.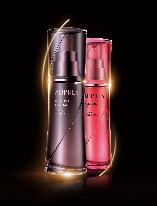 Release in March 2017, Base Care Essence
Download Small Image[18.5KB]

Download Large Image[1492KB]

Innovation in Storefront Communication
The AUPRES brand is taking advantage of this opportunity to renew its brand slogan and visuals in advertising as well as sales-counter design, counselling services and beauty consultant (BC) uniforms. Through these renewals, the brand also aims to create stores with more energetic, healthier image.

・Changing the layout of sales counter to create relaxed atmosphere while counselling. The space for trying out products is expanded, and brighter colors and open layout are used in counter design.
・Improving the quality of counselling services. Using a device for comprehensive skin check depending on the season, BC can fully and accurately measure consumers' skin condition and provide appropriate yet easy-to-understand counselling, helping the consumers to appreciate their "beauty of healthy skin".
・Introducing new uniforms of BC and makeup artists with more active and sophisticated design.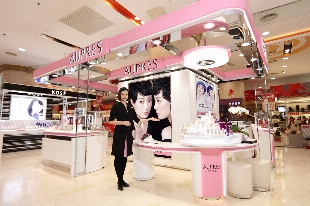 New sales counter (Beijing New World Qianzi Department Store)
Download Small Image[72.7KB]

Download Large Image[1122KB]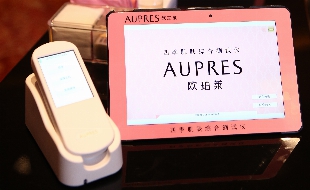 New beauty device
Download Small Image[49.2KB]

Download Large Image[735KB]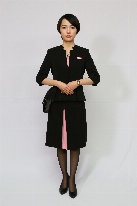 New BC uniform
Download Small Image[18.4KB]

Download Large Image[773KB]

*The content of the release is correct as of the time of release, but please note that it may in some cases differ from the latest information.