Dec. 9, 2016
Publisher: Shiseido
Management / Financial Result
Shiseido Establishes "Shiseido Venture Partners" for Operation of Corporate Venture Capital
-First Investment in dricos, Inc.-
Shiseido Company, Limited will establish an internal venture capital organization, Shiseido Venture Partners to make investments in new ventures that develop and operate innovative businesses.
As part of the company's Open Innovation scheme, Shiseido Venture Partners will support ventures from financial and business perspectives and aim to grow together taking into account future business development, including business alliance.
Shiseido has decided on dricos, Inc. as its first venture investment (headquarters: Yokosuka, Kanagawa prefecture; CEO: Yasuhiro Take, hereinafter dricos).

1.Setup of Shiseido Venture Partners
Open Innovation scheme promoted in the Shiseido Group aims to create innovative products and services related to "beauty" by combining the technologies and ideas of other companies, and to create new values and new markets based thereupon. Its purpose is for the company to maintain global competitive advantages and leading position in the industry. To bring these ideas into life, the company will set up Shiseido Venture Partners with functions of corporate venture capital within Business Development Department in the company's headquarters.
Shiseido Venture Partners will study and select target ventures with unique business assets and examine the appropriate amount of investment. Through active investments in promising ventures, Shiseido will accelerate the accomplishment of its mid to long term business strategy, VISION 2020.
At the same time, Shiseido Venture Partners will also aim at talent development by allowing the employees involved in its operation to experience and understand the managerial mindset and approaches characteristic of the venture industry, as well as the process and speed of commercialization of original business ideas.

【Outline of Shiseido Venture Partners】
Name: Shiseido Venture Partners
Business: Corporate venture capital
Ceiling on investment: Three billion yen
Target businesses: Technologies that create "beauty", technologies and ideas that create and communicate "beauty", and new business structures that deliver "beauty".
Contact information: contact_svp@shiseidoventurepartners.jp
HP: http://www.shiseidoventurepartners.jp  (Japanese only)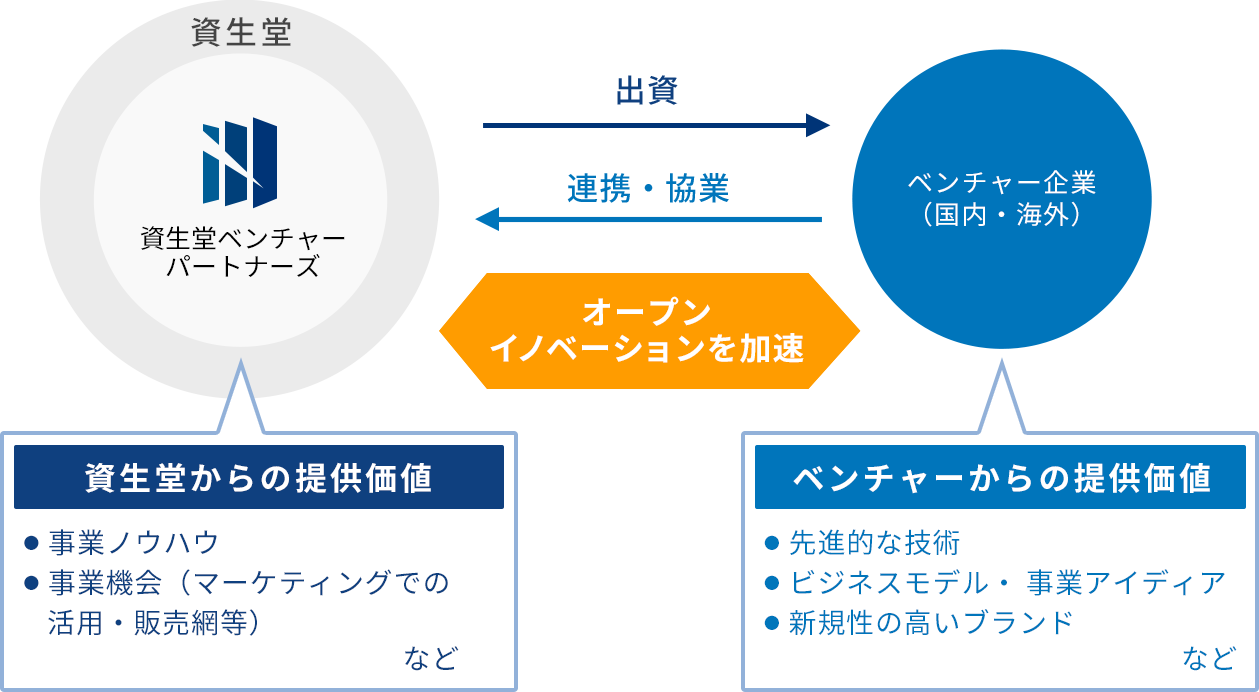 【Business activity: Image】
Download Small Image[94.6KB]

2.Investment in dricos, Inc.
dricos is developing a supplement appliance that provides necessary nutrients, individually selected based on the analyzed biometric/anthropometric data. The world is expected to become more health-conscious, and the aging society creates more demands in the health foods industry, therefore companies are focusing more on optimizing their products and services to align with consumers' needs, diversifying in various fields. Under these circumstances, Shiseido has chosen dricos as its first venture investment, expecting the venture's significant growth in the future. Going forward, Shiseido will strive to develop new services utilizing the products and services of dricos.

【Outline of dricos, Inc.】
Name: dricos, Inc.
CEO: Yasuhiro Take
Address: Oppamaminami-chou, Yokosuka, Kanagawa
Founded: January 2012
Business: Developing and manufacturing a supplement appliance that tailors and provides necessary nutrients
HP: http://dricos.co.jp/ (Japanese only)

*The content of the release is correct as of the time of release, but please note that it may in some cases differ from the latest information.