Environmental Assessment & Our Position in the First Year of WIN 2023
In August 2020, when we drew up plans for WIN 2023, we were operating under the assumption that the impact of the COVID-19 pandemic would lessen and that economic activity would begin to recover in earnest from the second half of 2021 to the first half of 2022. However, with the spread of COVID-19 variants, economic activity stagnated globally, and consumer sentiment declined due to deteriorating corporate earnings and employment conditions. In the Japanese market, in particular, the number of visitors at stores declined due to retailers shortening their business hours and consumers choosing to stay home, and demand from inbound tourism was also sluggish. On the other hand, we have seen a wave of recovery in Europe, the U.S., and other countries where vaccinations have become more widespread.
It is against this backdrop in 2021 that we approached the first year of WIN 2023 as a period of "Groundwork." We focused on structural reforms, reviewing our business portfolio and strengthening our financial base while preparing for and responding to current COVID-19 markets. We restructured our business portfolio by transferring our Personal Care business, prestige makeup brands bareMinerals, BUXOM, and Laura Mercier, and terminating our global licensing agreement for Dolce&Gabbana.
Overview of Business Performance in 2021
Extraordinary
Income (Loss)
Our skin beauty brands, a priority area, achieved double-digit growth as a result of aggressive strategic investments. E-commerce sales also increased by more than 20%, with steady growth in the prestige sector. Sales recovered in all regions except Japan, with robust comebacks in the Americas and EMEA, which made up for the challenging market conditions in Japan. As a result, our net sales increased 12.4% year on year to 1 trillion 35.2 billion yen, or 7.8% up year on year on an FX-neutral basis. Like-for-like, excluding the impact of business transfers, net sales were up 11.9% year on year.
Operating profit increased 177.9% year on year to 41.6 billion yen mainly due to an improved product mix as a result of our focus on skin beauty and business transfers. Other factors included successful agile cost management in response to changes in the market environment and fixed cost reductions through structural reforms. In the Americas and EMEA, better product mix, organizational optimization, and a reduction in fixed costs contributed to a combined improvement in profit of over 25.0 billion yen, significantly boosting the Company's profitability. In addition, free cash flow was up 186.6 billion yen due to cash generation through business transfers and inventory reductions, while we continued to invest in production facilities and digital transformation.
Net profit attributable to owners of parent increased by 54.1 billion yen to 42.4 billion yen, due to higher operating profit and the recording of gains from the transfer of the Personal Care business. These factors offset the recording of an impairment loss on trademarks related to Dolce&Gabbana and a goodwill impairment loss following the transfer of three prestige makeup brands.
Overview of Skin Beauty Brands
Despite the challenging environment caused by the impact of COVID-19 and other factors, our skin beauty brands continued along a strong growth trajectory. Global brands SHISEIDO, Clé de Peau Beauté, and IPSA recovered to 2019 levels, while Drunk Elephant expanded its operating regions and ANESSA maintained its leading share of the Japanese market.
Net sales of major brands in 2021 vs 2020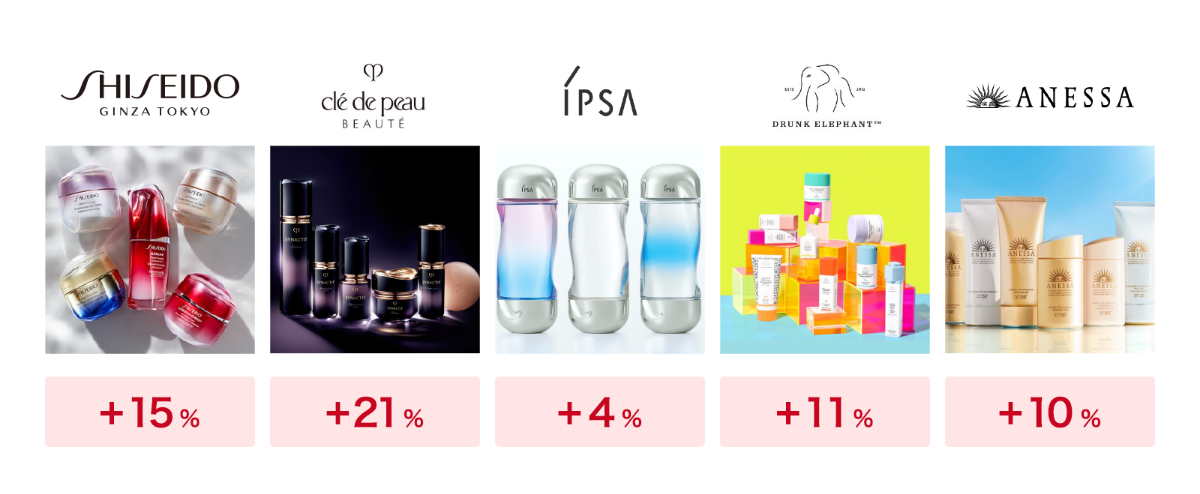 Brands in non-traditional categories launched to meet diversifying consumer needs also grew, with good performance from "tree-powered" brand BAUM and high-end brand THE GINZA, which launched in China in October 2021. EFFECTIM is also gaining popularity as our aging care brand that integrates skincare and beauty devices as a joint venture with YA-MAN LTD.

Key Policies in 2022
In 2022, we expect the market environment to remain uncertain due to the spread of COVID-19 and other factors. Nevertheless, we are committed to responding to these changes in the external environment while strengthening our investments in growth areas such as our premium skin beauty business and shifting to a digitalized business model based on the strategies set out in WIN 2023 and Beyond. At the same time, we will continue to rebuild our earnings base, including further restructuring for the profitability of our EMEA and Americas businesses.
Our key policies for 2022 are as follows:
Grow skin beauty brands, explore M&A opportunities
Americas, EMEA: step up profitability
Japan, China: aim for full recovery in 2H
China, Travel Retail: maintain growth momentum
Accelerate Group-wide DX
Continue global transformation, increase profitability and productivity
Enhance long-term initiatives (ESG, Supply Network, R&D, FOCUS, People)
Our outlook for market recovery from COVID-19 announced in February 2022 assumes that Japan will recover in the second half of 2022 and that China will continue to grow despite the impact of the lockdown at the beginning of the fiscal year. The Americas already recovered to pre-COVID-19 levels in 2021 for skincare, while makeup is expected to recover in 2023. In addition, EMEA is expected to recover to pre-COVID-19 levels in 2022, and Asia Pacific and Travel Retail—during 2022.
Outlook for 2022
Our forecast for consolidated financial results and year-end dividend in fiscal 2022 were published on February 9, 2022, together with our announcement of results for fiscal 2021. Please see here for more details.
Shiseido plans to voluntarily adopt International Financial Reporting Standards (IFRS) in place of Japanese GAAP from the first quarter of the fiscal year 2022 to further promote global management by unifying accounting standards within the Group. This will also help to improve the comparability of international financial information in the capital markets. Based on these standards, the forecast of consolidated financial results for the fiscal year 2022, is scheduled to be announced at the time of the earnings announcement for the first quarter of 2022.
(Added in May 2022)
The IFRS-based consolidated financial results forecast for the fiscal year ending December 31, 2022, was announced on May 12, 2022. Please see here for more details.
(Added in August 2022)
The consolidated financial results forecast for the fiscal year ending December 31, 2022, was revised on August 10, 2022. Please see here for more details.