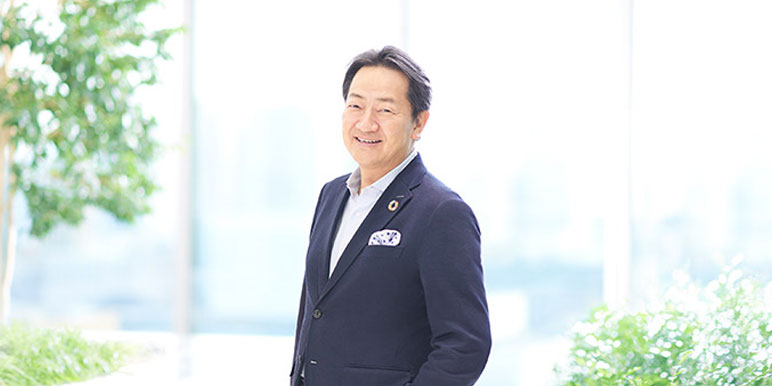 'Shiseido Sustainable Beauty Initiative'
Realizing a Better World
Since its founding in 1872, Shiseido has pursued unprecedented new value and worked to deliver it across society. The establishment of Japan's first Western-style private pharmacy, the introduction of the soda fountain, and the creation of the cosmetics business are all examples of how Shiseido has incorporated Western lifestyle practices and culture into Japanese society to realize new value.
The name "Shiseido" comes from a passage in the ancient Chinese divination text Yi Jing. The passage reads, "Praise the virtues of the earth, which nurtures new life and brings forth significant value." We have always felt that our ongoing business activities are only possible thanks to the abundance of nature and the sustainability of the environment. To that end, we firmly believe that our business activities must place importance on the creation of social value, in addition to economic value. We also believe that a sustainable society is a prerequisite for sustainable business. Guided by these beliefs, we are engaging in a broad range of activities to create a virtuous cycle for a better society.
This virtuous cycle is put into motion by our corporate mission, BEAUTY INNOVATIONS FOR A BETTER WORLD. Our sustainability strategy centers on ESCG. "ESG" stands for "environment," "society," and "corporate governance" and is a concept on which modern society places value, while "C" represents "culture," a unique strength of Shiseido. Accordingly, we are working to promote the Shiseido Sustainable Beauty Initiative, which aims to realize a better world, and has defined the following key areas that require our attention as a beauty company.
Clean Environment:
Striving for the ideal of a global environment that supports lives of vibrancy.
Respectful Society:
Advancing a society that embraces diversity through respect, and supports lives of beauty.
Enriched Culture:
Creating new value to enrich culture by transforming beauty.
Trustworthy Governance:
Striving to maintain and improve transparency, fairness and agility of management,
while maximizing corporate value over the medium to long term, for all stakeholders.
In regard to environmental areas, we are focusing efforts on establishing targets and timelines for reducing our environmental footprint, such as CO₂ emissions, palm oil, paper, and water resources, as we aim to achieve further sustainable growth. We are prioritizing measures to address climate change, in particular, and promptly expressed our support for the recommendations of the Task Force on Climate-related Financial Disclosures (TCFD) in April 2019. In addition, we are strengthening initiatives such as reducing marine pollution through the development of eco-friendly packaging. Also, we continue to protect people's skin and bodies from the damage of UV rays by leveraging our sunscreen technologies, which have garnered high praise.
For social areas, we are leading the way in terms of empowering women, a major issue facing Japanese society. With regard to our offices in Japan, we are currently aiming to raise the ratio of female leaders to 40% by the end of 2020. In addition, President and CEO Masahiko Uotani has been appointed as the inaugural chair of the 30% Club Japan, a chapteraiming to boost female representation on company boards. Amid the current conditions in Japan, which ranks 121st* in gender equality, we are working together with other companies to resolve issues that impede the empowerment of women. Globally, we will expand activities unique to a beauty company to empower senior citizens and those with serious concerns about their skin and appearance, including changes in skin color caused by the side effects of cancer treatment, through the power of beauty.
In areas related to culture, where the Company boasts strengths, we will pass on our long-cultivated corporate culture and DNA to future Group employees, as we strengthen our unity through shared value and evoke our power to innovate that has enabled us to constantly transform in response to changing times. By doing so, we will explore and discover new aesthetic sensibilities and create new value through collaboration with our businesses.
As for governance, we have adopted a monitoring board structure under which the Board of Directors exercises supervisory functions with respect to the Shiseido Group's business execution. We have also ensured the diversity of the Board in order to improve the quality of our global management. Moreover, the Board listens carefully to the feedback received from consumers and consistently brings attention to and deliberates issues based on the motto, "bad news fast." In these ways, our management maintains its transparency.

Positioning these efforts as important elements of its ESCG management, Shiseido will strive to remain vital for the next 100 years and be the world's most trusted beauty company.
*

The Global Gender Gap Report 2020, World Economic Forum (released in December 2019)
Jun Aoki
Executive Corporate Officer
Chief Social Value Creation Officer

Shiseido's Material Issues
As a framework for creating social value unique to a beauty company, we defined the Shiseido Group's material issues in April 2019 based on interviews and discussions with our stakeholders.
Categorizing issues taking into consideration their impact on all our stakeholders(consumers, business partners, employees, shareholders, society and the earth) and their impact on the Company's businesses, we established an order of priority and selected 18 material issues. In addition, we revised our definition of social value from the perspectives of the environment, society, and culture.

The details and positioning of each issue were reviewed, as needed, through discussions by corporate officers at Executive Committee in 2019 and Sustainability Committee in 2020.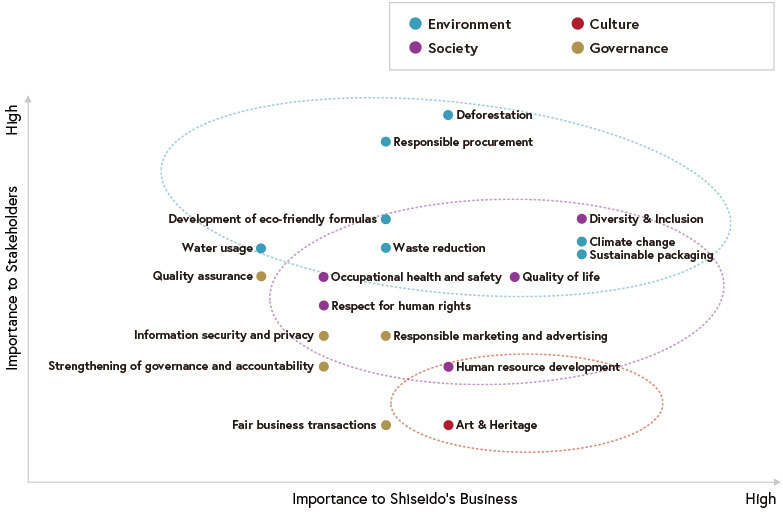 The following process was implemented to define materiality.
Step1>Identify social issues in consideration of all stakeholders based on their expectations and demands along with various perspectives collected from:
Experts in environmental and social fields in Japan and overseas

Consumer feedback (from company surveys conducted in five countries) 

External surveys, reports from major international organizations and investor feedback

Employee and board member feedback (in Japan and overseas)
Step2>Shortlist the identified issues based on their relevance to business management and make an advanced analysis by following the process below:
Discussions are held with corporate officers and board members and various divisions to select issues highly relevant to business management. The selected issues are subjected to impact assessment based on two perspectives―importance to all stakeholders (consumers, business partners, employees, shareholders, society and the earth) and Shiseido's businesses. The assessment scores are used to narrow down the list and finalize the 18 material issues. The details and strategic actions for the 18 issues are confirmed by the board members.
Step3>Submit the finalized materiality list to the management committees for approval
Social Issues Addressed by Shiseido and Corresponding SDGs
We promote the Shiseido Sustainable Beauty Initiative and contribute to the achievement of Sustainable Development Goals.
Our social challenges organized in line with SDGs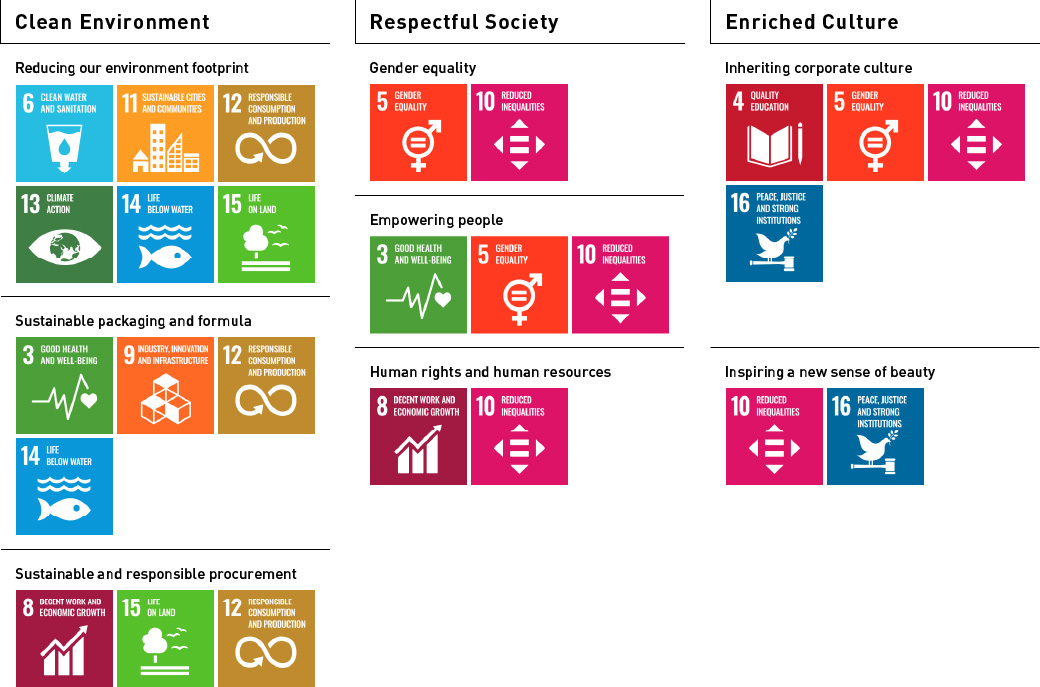 Sustainability Promotion Structure
Shiseido is pursuing and promoting sustainability across the company, including in our brand/regional sales businesses and corporate divisions.
In 2019, the Social Value Creation Division was newly set up to accelerate social value creation by integrating three key functions; Sustainability Strategy, CSR, and Corporate Culture. The new division's major responsibilities are: (1) Defining areas that need particular focus, (2) Setting company-wide goals and KPIs, (3) Committing to internal and external achievements, (4) Tracking progress and support as necessary, and (5) Educating our employees and all stakeholders.

In 2020, we launched the Sustainability Committee, a dedicated meeting aimed at ensuring timely management decisions and a stronger recognition of this theme. The committee is held at a regular basis to discuss group-wide sustainability initiatives, to decide the strategies, policies, and activity plans, and to monitor progress. The committee consists of the CEO and corporate officers in charge of Corporate Strategy, Finance, R&D, Supply Networks, Corporate Communications, HR, and Brand Holders,as well as corporate auditors. Other corporate officers can be involved according to the matter at hand.

Particularly important matters are submitted to the board of directors for approval.